ATM Business Ebook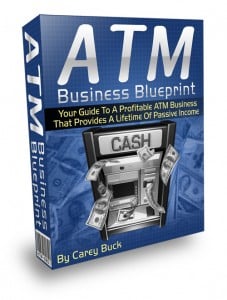 Looking for an ATM Business ebook so you can learn about the ATM business and then start your own ATM business?
Well you have come to the right place. My ATM Business Blueprint is the perfect ATM Business ebook (and course) for anyone that wants to learn the ATM Business and then proceed to start and grow a profitable ATM Business that will provide a lifetime of passive income.
I have to admit I am a little biased when it comes to my ATM Business ebook but I also have to tell you that I've seen what else is out there. I have gone through all of the other ATM business ebooks that you could find.
But what I feel makes my ATM business ebook the best on the market is this: I started my own ATM business from scratch. Not knowing a darn thing about the ATM business. I had questions. Sometimes I got answers. Sometimes I got answers from the school of hard knocks.
I did create a successful and profitable ATM business that I still operate today (with my partner.) Lots of folks would ask me questions about my ATM business and tell me that I need to write an ATM business ebook.
So I did some research. Read all there was to read about the ATM business. From free articles, to other ATM business ebooks to anything you can imagine. Then what I did was I realized what things ALL of these other ATM resources, including other ATM business ebooks and courses, were missing and I made sure that my ATM Business Ebook had it all in there and then some!
Why do I say and then some? Well, because I remember some things that I encountered when starting my ATM business that gave me problems so I made sure to include as much information as possible about those things in my ATM business ebook. My theory is that if I had problems with it, probably other folks will too?
Don't get me wrong…when I say "problem." I don't really mean it's a deal killer, money sucking problem. I just mean it's something that someone who has never been in the ATM business before doesn't know about and has to learn. Ok? Which, of course my ATM business ebook and course covers it.
Even problems, tips and ideas that I encounter after starting and running my successful ATM business I was sure to include in my ATM business ebook.
What's in my ATM business ebook?
First you have to remember that my ATM business ebook is just part of the whole package. I'm offering an ATM business course. It's a step by step guide to starting your own profitable ATM business that will provide you with a lifetime of passive income. Ok? So, it's not just some trashy ATM business ebook that you can read through in 5 minutes and then toss away?
This is top notch, nuts and bolts, meats and potatoes about the ATM business.
First thing that you'll get with my ATM Business Blueprint course is my 165+ page ATM business ebook. I mean this think is packed to the hilt with dynamite content. No fluff.
This ATM business ebook, if you follow it, can have you getting money for your ATM business, finding a location to place your ATM and snatching up and securing that ATM location for your ATM business all within 30 days!
Yeah, this is the real deal, folks. Within my ATM business ebook you'll find out:
Why the ATM business is NOTsaturated
How you can find opportunity in great places that already have an ATM in them
The process you will go through to locate a location to place your ATM
List of location types and how they typically perform
How you can be 100% new in the ATM business and still collect 100% of your surcharges
Also, within the ATM Business Blueprint course you will find:
10+ How to training videos (I'm always adding more)
Marketing templates that you can use to secure new locations
Scripts that you can use to talk to business owners in any type of situation
MP3 recordings of the entire ATM business ebook so you can learn while you're driving in your car, working out or just relaxing and listening to your ipod
Like I said, this ATM business ebook is like no other ATM business ebook or ATM business course you've ever seen.
Plus, guess what? I'm so confident that you can get yourself your first ATM placed within 30 days that my ATM business ebook and course comes with a 30 day, no questions asked money back guarantee. How 'bout them apples?
And if you want to read some more details about who this course might be for, you'll enjoy this post about my ATM business ebook.
Do you know someone that is looking to get into the ATM business or that has expressed an interest in the vending business? If so, why not retweet or like this post on Facebook via the buttons above! Thanks!