Installed my first ATM today! Cash only tattoo shop🔥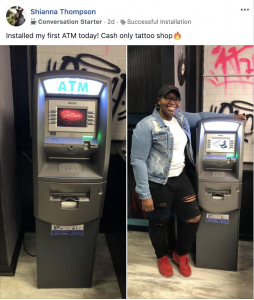 Been MIA due to my day job and COVID. BUT here is my first ATM. installed and done. Ready for the next one.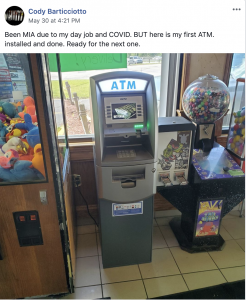 Thank you for adding me to this wonderful group, Carey. I have purchased my first ATM Machine about two weeks ago. I'm very happy to be in this excellent group and to learn more about the ATM Business! Thank you, once again, Carey.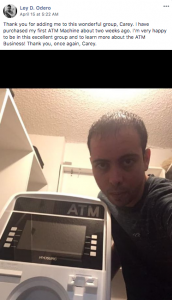 Third machine install Saturday. Got a good feeling about this bar and grill from what I\'ve seen on their FB page. Live bands, karaoke, nice outdoor patio, FOOD!! They sit right next to one of Ingalls Shipbuilding entrances, so this bar is the first piece of commerce the workers see when they leave the plant. Owner is anxious to open back up.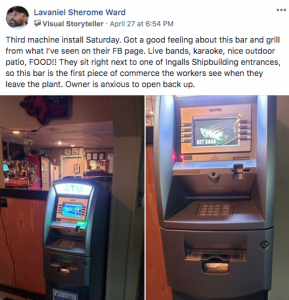 I finally got my first contract signed and ATM ordered!!!
I hope you all can forgive the sweat stain on my shirt. This install was a monster in the south MS humidity. This location already had studs in the floor from the last ATM. Problem was trying to maneuver the 200+ pound machine over the studs and align them with the holes. But finally did it. Gotta go back Saturday and bring nuts and washers to bolt it down. Two transactions so far.... my two test transactions! 😁. Second machine on the way. Hopefully I\\\'ll be installing that next weekend. 💪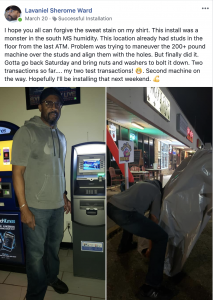 Got number 2 setup today 💰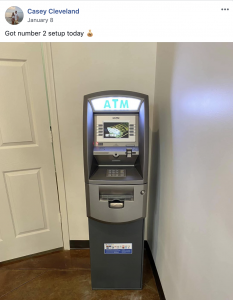 Got my first ATM. Felt like Christmas lol.